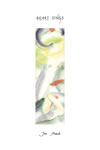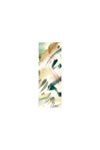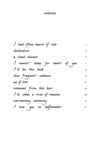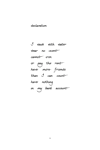 Heart Sings — a collection of love poetry by Jon Atack, illustrated with prints of the author's watercolours and calligraphed by Vivienne Atack, to whom the poems are addressed.
Printed with pigment inks on fine quality papers. Every copy signed by the author. Available as the Bockingford edition or the luxury edition.
Contents
I had often heard of love.
declaration.
a cloud shadow.
I cannot sleep for want of you.
I'll be the book.
this fragrent cadence.
as if love.
released from the bow.
I'll swim a river of reasons.
overweening intensity.
I love you to bafflement.
View an image of the contents page.
Bockingford Edition
Cover printed on Bockingford rag inkjet watercolour paper, text on imajet folex satin inkjet paper. £7.99 per copy, plus £1.00 p+p UK (£8.99 total), or £2.00 to the rest of the world (£9.99 total).
Luxury Edition
The luxury edition contains a signed watercolour by the author on rag paper, cover in Hahnemule Torchon paper, and text printed on Lumijet Museum Parchment, every copy signed and numbered by the author — £75 per copy, plus £5.00 insured special delivery postage in UK (£80 total), or £8.00 insured signed for delivery to the rest of the world (£83 total).
---
Customer Review
Thank you for the copy of Heart Sings! It's such a beautifully produced book — a real delight to handle. I love the poetry. I was grabbed by the playful and effervescent immediacy of the style and, as I read, on some deeper level, there arose a sense of the deep love that inspired the verse. As such the whole work is deeply meaningful and exquisitely constructed whilst also seeming spontaneous and almost effortless — for which the beautiful watercolours serve as lyrical metaphors.
Mark Cranmer
---
February 2006